Posted By Paul G March 6th, 2012 Last Updated on: February 27th, 2019
Powwows.com is honored to have the chance to sit down with two of the hunters from the hit show "Swamp People" on the History Channel. Here's more about the Father-Son team, R.J and Jay Paul Molinere, who between them have over 50 years of experience of hunting one scariest killing machines in the whole World.
RJ Molinere is a Houma Native American. A strong competitor at whatever he does.

He is the best arm wrestler at 154 lbs. and the best alligator hunter at 154 lbs. He is a 4 time World Champion arm wrestler, 11 time National champion, 2 time Arnold Classic Armwrestling Champion, and 2 time GNC Champion.

He respects natures gifts and uses her resources properly. He was born and raised in a small Native American village with very strong ties to the land and water. He has lived most of his life off of the lands resources trapping, shrimping, crabbing, and alligator hunting.

He loves people and loves to talk. He is devoted to God and puts God before everything he does. He holds family dear to his heart.

He is a devoted husband, father, son, brother, grandfather and uncle to many special people.

Jay Paul is a 2 times Golden Gloves Boxing Champion, regional boxing champion, and undefeated MMA fighter. He loves to hunt, fish and just about any outdoor activities.
Below is our interview of RJ and Jay Paul.
Let's start off with a little bit of Alligator Hunting history: – (RJ)
Years ago, in the late 1940s State of Louisiana shut down hunting of alligators because they had gotten so scarce. It reopened in the late 70's because the Alligator population was getting out of hand.
How did your family become involved with hunting gators? (RJ)
Jay and I are members of the United Houma Nation and years ago our people survived by living off the land which included hunting alligators. In our family it goes back maybe 600 years ago and was a tradition passed from generation to generation. When they opened seasonal hunting again in 1979 my Mother was the one that took me out and showed me how it was done. She had watched as a young girl and taught me well. Really it's more than just a job, for us it's always been a part of how we lived. It's part of living off the land and in our area that is mostly swamp. That's what surrounds you and anything you need is right there. What I learned from the generations before me, I passed onto Jay Paul starting when he was 3 years old. My wife was out there fishing with me for 30 years, also….so it's definitely a family thing for us. And not just for Alligators, we are for shrimping, crabbing and trapping – earning a living from season to season.
[ad#Adsense 468]
How involved is your family's next generation with this tradition? (Jay Paul)
I have a son that is almost 3 and he and my niece are already involved. The kids like seeing what we come home with so at the end of the day they come out and see the days' catch. As we show them we also tell them all the stuff that happened that day and by listening to our stories they learn it like they would any other tradition a family might have. Kids at that age soak up everything and that's important because as the next generation, they are key to what we do. As soon as they are old enough to understand and are able to follow directions they are in the boat. The key to that is just for them to know when it's time to sit down and listen.
What about leading up to that first day of the Alligator season, does your family have any traditions everyone takes part in? – (RJ) Yes, we do….and it's possible this might be a part of this year's show so I don't want to give too much away just yet, but we do have a feast and there is a blessing of the boats.
Do people always want to know if you all have ever been hurt or injured? – (RJ)
Yes, we are asked that a lot and it's mostly been some close calls, nicks and cuts. We respect the gator enough to know our limitations.
(To Jay Paul) You know what I respect? That serious looking gun you use, what kind is it?
It's a 17 HMR made by Savage.
[ad#Adsense 468]
So I might as well ask….what is the scariest thing that has happened? (Jay Paul)
Probably the scariest thing I remember was thinking…."how are we gonna get this 13 and a half foot alligator in this 12 foot boat."
Besides work, what other kind of activities do you all like to do? – (Jay Paul)
My Dad is a 4 time World Champion Arm Wrestler and I am a 2 time Golden Glove Boxing Champion (State Champ and Gulf Coast Champ) (RJ) – Jay also has a 5-0 record as an MMA fighter.
How did being on "Swamp People" come about? – (RJ)
After the first season had been filmed the show was wanting to add someone of Native American heritage for Season 2. They were put in touch with me but while we talked they said they were looking for just 1 guy. I told them I had a partner and couldn't do it without him, they were not sure it was gonna work but took footage of Jay Paul and I back with them to show to the producers, anyway. Then we got a call and they said they liked what they saw and wanted us for the show.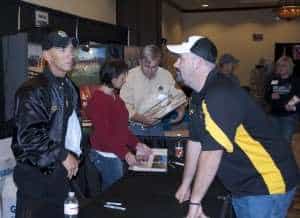 How is life since you made your debut on Season 2? – (Jay Paul)
Anything you do you have the good and the bad, I love it though. Me and my Dad love to meet our fans. There's a lot of good people out there, we get to hear stories from them and they want to hear stories from us. It goes both ways.
What about this year? When is it time to get out there and start hanging that gnarly bait in 2012? – (RJ)
The first Wednesday in September and for the following 30 days you got to look, smell and think like an alligator.
Do you have to hang that rotten chicken day after day? Surely, Gators would be interested in a nice greasy piece of Fry Bread? – (Jay Paul)
Alligators will eat anything, and everything. An alligator is a destroyer, he will eat it all….we have skinned an alligator open and found a license plate in his stomach.
You know as the show catches on more people are going think, "no problem!" What advice would you tell the average "Couch Hunter" wanting to roll the dice at doing what you do? (Jay Paul)
Not everyone can just go out and fish alligators. You have the right property, and the licenses. It's real regulated and there is a lot of red tape, so you should know all the guide lines before you even think about baiting that first line.
Interview, photos, and video by Stacey Felix.
Home » Native American Articles » Native Profiles »
Explore Native Culture