Posted By BrittanyLCerny January 7th, 2021 Last Updated on: April 15th, 2021
If you're lucky enough to have a Doodle illustration and an article of yourself on Google, chances are you're doing something right. Not just anyone can get a caricature of themselves on the world's most visited site. Recently, Elizabeth Peratrovich joined that elite club.
So who is this great woman who inspired the Dec 30, 2020, Google Doodle?
Elizabeth Peratrovich was born in 1911 in Petersburg, Alaska, and was a part of the Tlingit Nation. Growing up in this small town with her adoptive parents, she faced extreme segregation and discrimination. Instead of being welcomed by the community, she encountered signs that read: "No Natives Allowed," "No Dogs, No Natives," and "We Cater to White Trade Only."
This blatant exclusion fueled her desire to fight for civil rights for herself and others facing similar trials.
In 1941, Elizabeth, who was president of the Alaskan Native Sisterhood, and her husband, Roy, the leader of the Alaskan Native Brotherhood, stumbled across a discriminatory sign on the door of an inn within their new town of Juneau. Elizabeth immediately wrote to Gov. Ernest H. Gruening to garner the necessary support to make a change. Gruening was on board, and in 1941, they attempted to pass an anti-discrimination bill through the Territorial Legislature, which failed.
That didn't stop Elizabeth and her husband, who campaigned throughout Alaska, urging Native Americans to "join their fight for justice." In 1945, Elizabeth played a critical role in the passage of the first anti-discrimination law in the U.S.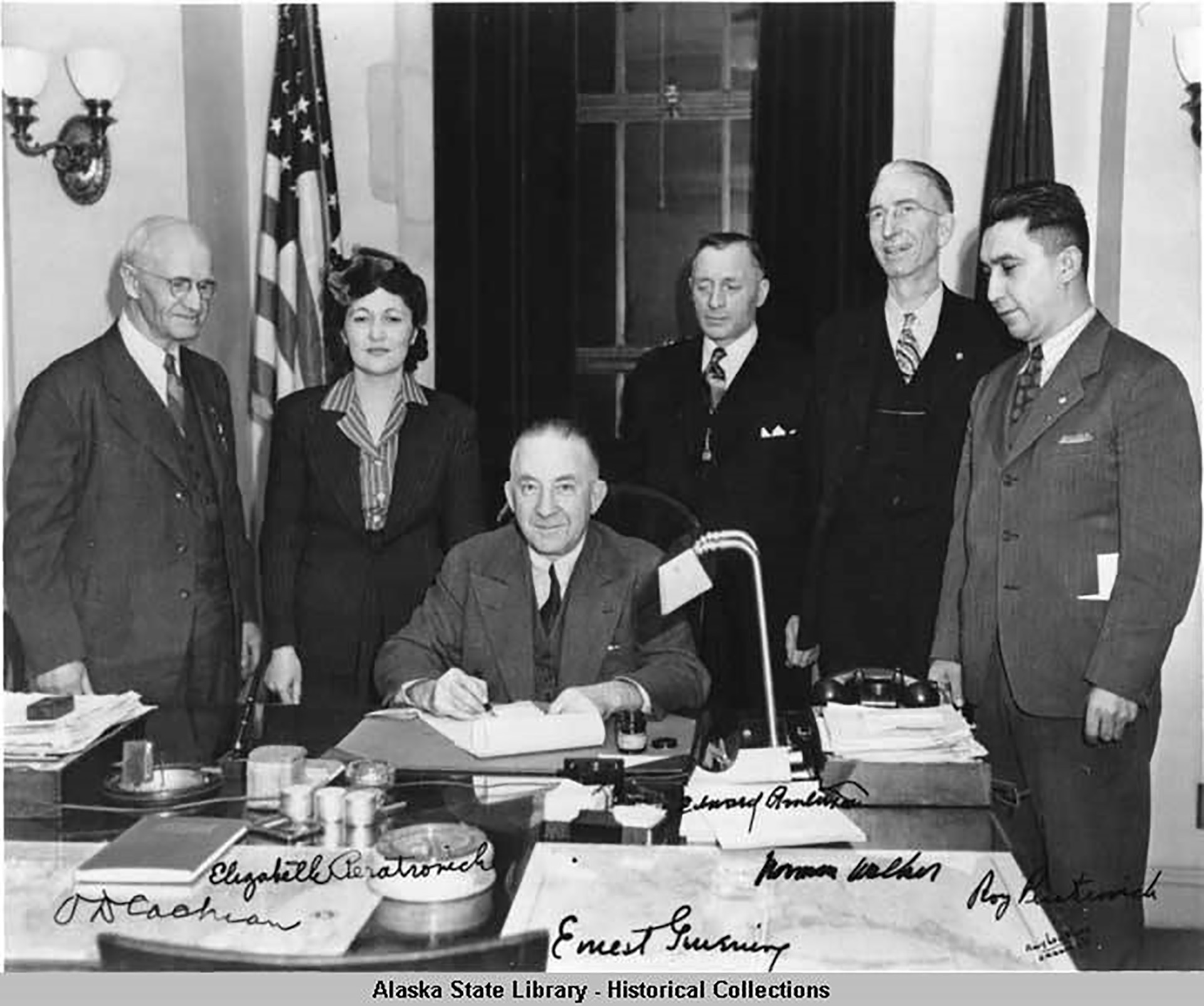 Image Credit: Alaska State Library–Historical Collections
During the public comment period, Peratrovich, who always knitted while attending legislative sessions, put down her needles to speak. "I would not have expected that I, who am barely out of savagery, would have to remind the gentlemen with 5,000 years of recorded civilization behind them of our Bill of Rights."
After she described the restrictions her family faced, the senator asked if she thought the bill would end discrimination. She replied, "Do your laws against larceny and even murder prevent those crimes? No law will eliminate crimes but at least you as legislators can assert to the world that you recognize the evil of the present situation and speak your intent to help us overcome discrimination."
The gallery broke out in loud applause, according to Highway History.
How are we continuing to honor Elizabeth Peratrovich today?
In 1988 the Alaska State Legislature declared Feb. 16 as "Elizabeth Peratrovich Day."

In 2020 the United States Mint released a $1 gold coin inscribed with Elizabeth's likeness in honor of her historic achievements in the fight for equality.

Google.org is donating $1.25 million to the

National Congress of American Indians

, the oldest and most representative American Indian and Alaska Native organization serving tribal governments and communities.
This funding will provide direct cash grants and business training to hundreds of Indigenous-owned small businesses in the U.S. that have been impacted by COVID-19. Learn more.
Read the full Google Doodle article here.
Image Credit: Google by guest artist Michaela Goade
Home » Blog »
Explore Native Culture