Posted By BrittanyLCerny March 17th, 2021 Last Updated on: June 30th, 2022
If you've ever seen someone walking their dog, and you did a double-take to see if they were actually walking a wolf, it's entirely possible that that "wolf" was actually a Native American Indian Dog, or NAID.
While the breed bears a striking resemblance to the wolf and sometimes the Siberian Husky, Native American Indian Dogs are actually not wolf hybrids.
The Native American Indian Dog is a rare breed known for its long, pointy ears, thick coat, intense stare, and impressive build. According to K9 Web, they're generally strong, intelligent, and reliable working dogs. Their loyal, friendly demeanor and soft, snuggly coat also tend to make them ideal family pets.
The breed has grown in popularity in recent years, but a lot of questions remain: Where did the Native American Indian Dog breed actually come from? Was this breed a companion to early Native Americans? Are there any remaining Native dogs? Is the Native American Indian Dog recognized by the National Kennel Club? Can they become service dogs or therapy dogs?
Native American Indian Dog History
Did you know that wolves began the process of slowly evolving into dogs roughly 130,000 years ago? This provides us some clue as to the origin of the Native American Indian Dog.
According to the Smithsonian, "gray wolves and dogs diverged from an extinct wolf species some 15,000–40,000 years ago." The evolution of wolves to dogs can be studied by tracing genetic mutation rates in genomes and comparing different fossils with breeds we have today.
According to the experts at Animal Corner, the Native American Indian Dog is believed to be up to 30,000 years old. Yes, it's possible that the breed shared parts of North America with some of the earliest Native Americans to inhabit the land. Some specialists have theorized that the Native American Indian Dog breed could even be the missing link between wolves and the modern dog as we know it today.
But to get a clear picture of how the Native American Indian Dog breed came to be, it's important to understand how the colonization of America wiped out ancient breeds of dogs.
When European colonists arrived in America, they brought over disease, violence, and a way of life that devastated tribal populations and Native Americans' land. They also had an irreversible impact on their companion animals. Europeans at the time generally did not view dogs as companions the way many indigenous people did.
They looked at them more as pests or even food. So when these colonists pillaged and destroyed settlements, they also killed off the dogs living there. While some Europeans brought over their own dogs, they rejected the idea of breeding them with the Native "mongrels."

Ancient Native American Indian Dogs
While some modern dog breeds share similar genes with ancient dogs—purebred, ancient Native dogs died off generations ago. The Native American Indian Dog as we know it, according to Animalso, has been recreated based on historical documentation of those early Native dog breeds.
The Native American Indian Dog breed is not recognized by the American Kennel Club or the National Kennel Club, but it is recognized by the Native American Indian Dog Registry.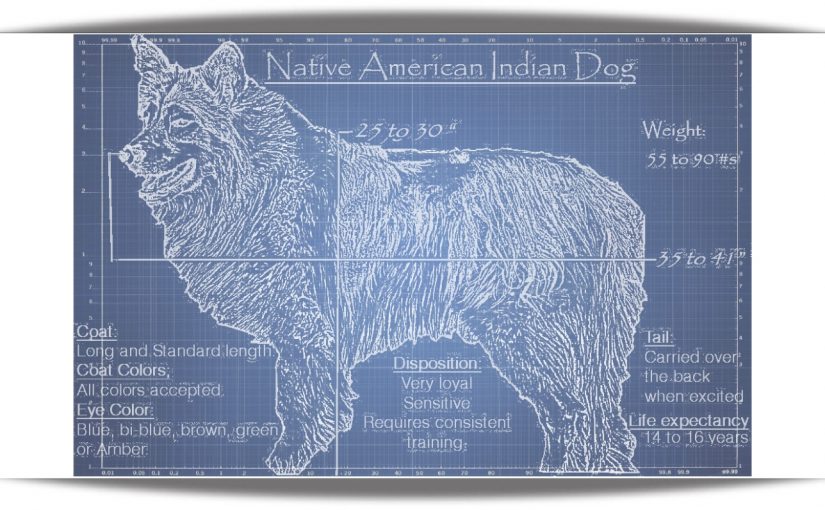 Image Credit: Native American Indian Dog Preservation Project via Night Eyes Blog
Things to Know About the Native American Indian Dog
Temperament
Often called "gentle giants," Native American Indian Dogs make great household pets and typically love their owners and want lots of quality time with them. The breed is widely adored for its loyalty but can also be neurotic and anxious on the flip side. If you adopt one and abruptly leave it alone for a long period of time, uncrated, you might be surprised to come home to a disaster. They are exceptionally sensitive animals and require a lot of attention.
Luckily, this is a highly intelligent breed so this is something you can train out of them, given the right dose of obedience training. Start by leaving them alone for a short time period, and gradually increase the time period. At the same time, if you need to consistently be away from your dog for many hours a day or you need to travel a lot for work, you may want to think twice about adopting one. They are excellent family pets and can coexist with other household pets but are definitely not "apartment dogs."
As the breed matures, it becomes more protective. So they can easily be trained into vigilant watchdogs and guard dogs as well.
Exercise
The Native American Indian Dog, as you probably could've guessed by its appearance, is a highly active dog that needs lots of consistent exercise—preferably outdoors. If you're going for a walk, run, hike, or bike ride, be sure to take your Native American Indian Dog along. You'll thank yourself later.
If you live in a condo or an apartment, be sure to carve out at least 30 minutes a day to get your Native American Indian Dog outside, but an hour is ideal. If they have access to a yard, make sure it's fenced in—NAIDs are notorious escape artists.
Coat
Is the Native American Indian Dog hypoallergenic? Not by a longshot. Due to the NAID's thick double coat, this very rare breed is known to shed significantly, especially during "blowout" season. For that reason, the breed requires weekly brushing, if not more frequently.
Diet
Despite its selective breeding, the NAID does not require a special diet, but they do require a lot of adult dog food. According to Animal Corner, you should feed your NAID roughly 1,200 calories a day, which equates to around three cups of kibble.
Health Issues
Due to their selective breeding, the NAID tends to have fewer health problems than many breeds. One of the biggest concerns for NAIDs, as is the case for many large-breed dogs, is hip dysplasia. This is when the thigh bone and hip joint don't fit together the way they should. Hip dysplasia can cause significant pain in the legs, but may not visibly affect your dog at all.
Taking your NAID in for a regular checkup can ensure that you catch this stubborn issue before it reaches the more advanced stages.
Lifespan
The NAID has an above-average life expectancy for a domestic dog its size—living, on average, between 14 and 19 years.
Adopting a Native American Indian Dog
Again, the NAID is considered a rare dog breed, so finding one in a timely fashion could prove challenging.
Your best bet is to try to "search and rescue." Go online and look for rescue organizations in your area. They may have a NAID waiting for its "furever" home. The Humane Society has an entire article titled "How to Find a Responsible Dog Breeder."
Groups and pages on social media dedicated to specific breeds and rescue dogs could also be worth looking into.
If you can't find one there, and you are comfortable working with modern breeders, do your research. Find NAID breeders that are legitimate and have a strong track record, and make sure you have evidence that the dog is the breed they say it is. You want to avoid puppy mills at all costs. According to Animal Corner, NAID puppies would cost a pretty penny, with the price per pup usually ranging from $1,500–$2,000. Litter sizes can vary from 4–10 pups.
So, now that you know all about the NAID, do you want to run out and adopt one ASAP?
Home » Native American Articles » Native American Culture »
Explore Native Culture