Posted By Paul G July 27th, 2012 Last Updated on: April 1st, 2022
Many people in the US and Canada have at least one Indian ancestral line in their family. Lots of people grew up hearing the family legend about a family member that was Native American.
Proving that legend to be true or false can be tough.
We have some steps and resources to help you in your search! Keep reading…
---
Finding Your Native American Heritage
Gather Information
The process to find your Native American/Indian heritage can take years. Gather and record all of the information you can!
Become a collector of information – search for stories from family members, find birth and death certificates, look for family Bibles.
Then document everything. Write it all down! Days, weeks, or months from now you may not remember every detail of the story your great aunt told you – so write it all down.
Not all the stories you hear from family members about American Indian ties may be true or correct, but you want to gather as many leads as you can about your ancestors and tribal heritage to start your search. You may hear from your grandmother that your relatives were from the Cherokee tribe. So many families have that as part of their family lore. Sometimes Cherokee may not be the right American Indian tribe. It may just be a name they knew.
---
DNA Testing
DNA testing can be another resource to help you gather information. Results are not legal proof of Native American/Indian heritage, however.
The DNA test can give you some idea about where in your family tree your Native heritage is rooted. In other words, the source of your Indian ancestry. For example, if your DNA test comes back and your records indicate you have 25% Native American blood, then it is likely that your grandmother/grandfather was full blood. On the other hand, if it comes back less than 10%, you know that you'll need to go back several generations to find the source of your Native heritage.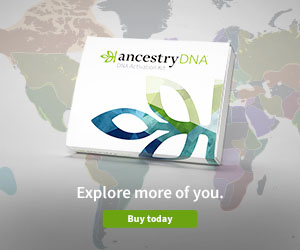 ---
Building A Family Tree
Now it is time to assemble all of the genealogy research (yes, even that death certificate of an ancestor you never met) you have into a family tree. This is how you can document your direct Native lineage.
There are many resources to help you create this or you can just use old-fashioned pen and paper.
I recommend using Ancestry.com for all matters genealogy-related. They offer a 14-day free trial. For most people, this will be enough time to build out a family tree.
I also have a free email guide that takes you step by step through how to use Ancestry.com's family tree builder.
Free Email Lesson – How To Build Your Family Tree With Ancestry.com
---
What Tribe Are You From
Tracing your history can be very challenging. Given that there are over 570 federally recognized tribes, finding your one specific tribe can be even more daunting.
Like I mentioned earlier if your family is several generations removed from your Native ancestors, knowledge of the exact tribe may have been lost or incorrectly remembered over the years.
Knowing where your family lived at different times and knowing all the surnames can be tools to help you find the tribe.
We have a whole page about finding your tribe – How Do I Find Out What Tribe I Am From?
---
Applying for Tribal Enrollment
For many people just tracing the family tree is their goal. For others, tribal enrollment with the Bureau of Indian Affairs is their ultimate goal.
Each tribe has its own requirements and process for enrollment. In addition, each tribe has its own restrictions on blood quantum.
Be sure you understand the difference between tribal enrollment and a Certificate of Degree of Indian Blood.
---
Good luck on your quest to discover your family's history!
Join our Facebook Group for Native American Family History. Talk with others looking for their history!
---
Resources
Native American Genealogy Articles on PowWows.com
---
Ancestry.com
Whether you're trying to dig into the truth about that old family story of a distant ancestor who was a Native American or simply taking on a fascinating new hobby, genealogy can be very challenging.
This is particularly true for those with a Native American heritage, where records are often decentralized, sometimes poorly kept, and other times, just straight-up impossible to find.
The good news? We're here to help you in your search.
While there will always be challenges researching your family's tree and its Native American history as you go further back in time, it has never been so easy to get the information you need when researching your family's Native American past.
Ancestry.com lets you search specifically for. Search by name, tribe, mixed blood, citizenship, tribal enrollment and more in one place, using the world's most complete records.
Home » Native American Articles » Native American History »
Explore Native Culture
TAGGED:
am i native
ancestry
family history
genealogy