Time to honor our moms again!
Have you started shopping for your mom yet?
Below are some of my favorite gifts from our Shop Native directory. I've also included a few picks from Amazon and other sites as well.
Do you have a favorite Native vendor? Let me know!
---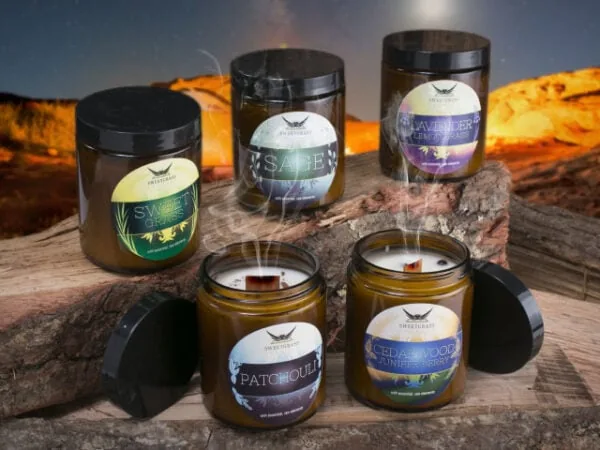 SweetGrass Trading Company brings you 100% handcrafted natural soy candles hand poured by artisans in Arizona. You'll enjoy pure, clean, natural candles mixed with the highest quality ingredients, essential oils and botanical accents that produce the perfect fragrance.
---
A palette with your perfect bronzer, highlighter, blush, and contour– all in one place! These silky, pigmented powders with clean and vegan formulations are easy to use and add the perfect amount of colour and warmth to your look.
---
Try one 2oz bottle of each silky lotion: sage pine, cedar, lavender, hydro (unscented).
Please find body care ingredient lists on each individual product page and/or on the product label.
---
Description
B.Yellowtail's Elk tooth motif returns in a new style – a slinky cowl top in a striking yellow color. With adjustable straps and a suple satin hand feel, this cami is ready to be paired in endless ways to elevate your personal style.
---
Description
Raven Tee Ginew + Jennifer Younger Collaboration
We love Jennifer's jewelry so we asked her to draw a Raven for us! Look for Raven to show up in other Ginew pieces coming soon!
"About Raven : The Tlingit people of Southeast Alaska have two descent groups, call moieties. The two moieties are Raven (Yéil) and Eagle (Ch'aak'). I am Eagle. Throughout my jewelry making I'm drawn to the Raven designs, as my opposite. So I was honored to collaborate with Ginew on a new design for their apparel.
---
Description
This tee by Tessa Sayers is inspired by real flowers that can survive throughout the winter months. They represent resilience, determination, and perseverance. Beautiful things can withstand harsh elements. With a deep root system and perspective of sunlight, these willful flowers are determined to welcome spring. May this collection inspire you to keep moving forward. Look for the sun after each passing storm. Let it remind you of your inner strength, capable nature, and unwavering will to seek the light.
---
Gift box comes packed with 1-12 oz. wild fruit jelly/jam, 1-12 oz. Quick Cook wild rice, 1- 8 oz. fruit syrup & 1 miniature hand crafted birch bark canoe ornament. If we are out of stock on any flavor of jellies or syrups, we will substitute with a flavor that is closest to your first choice.
---

The rains have arrived and have swept in new crossbody arrivals to the ACONAV Handbag Collections.
Vegan leather (PVC) crossbody style, with blue on dark gray Acoma Pottery print. 11" X 9" X 3", with poly-satin lining, zipper closure, internal zipper pocket, and gunmetal hardware. Includes both, color matching adjustable strap (58 inch max) and gunmetal chain strap.
---
These eye-catching earrings are modeled after the original hand-painted "Embrace Your Beauty" earrings created by Inspired Natives™ Project collaborator, Michelle Lowden (Acoma Pueblo). The vibrant design features a color palette inspired by the orange seashell earrings with turquoise accents commonly found in Pueblo Country. Wear these exquisitely detailed, mixed-media earrings, and no doubt that you will be noticed where ever you go.
---

This notebook was designed by Michelle Lowden (Acoma Pueblo) in collaboration with Eighth Generation's Inspired Natives™ Project.
The Balance Notebook design is influenced by Acoma pottery, which traditionally reflects patterns and designs found in nature, and represents the balance we all strive for. This beautiful design also embodies the aspiration we have to be more intentional with choices in our lives.
---
Description
Fall is one of the sweetest seasons for the Anishinaabe people thanks to one tree in particular—the sugar maple. Found throughout the woodlands of the eastern United States and Canada, sugar maples are a cornerstone of Ojibwe life, as heralds of the coming autumn with their fiery displays and sweet sap flow. Capture a bit of autumn color and seasonal sweetness in our new Maple Sugar Wool Scarf by Anishinaabe-Ojibwe artist Sarah Agaton Howes.
---
Books
In her debut picture book, adapted for audio, professional Indigenous dancer Ria Thundercloud tells the true story of her path to dance and how it helped her take pride in her Native American heritage.
At four years old, Ria Thundercloud was brought into the powwow circle, ready to dance in the special jingle dress her mother made for her. As she grew up, she danced with her brothers all over Indian country. Then Ria learned more styles—tap, jazz, ballet—but still loved the expressiveness of Indigenous dance. And despite feeling different as one of the only Native American kids in her school, she always knew she could turn to dance to cheer herself up.
---
2018 James Beard Award Winner: Best American Cookbook
Named one of the Best Cookbooks of 2017 by NPR, The Village Voice, Smithsonian Magazine, UPROXX, New York Magazine, San Francisco Chronicle, Mpls. St. PaulMagazine and others
Here is real food—our indigenous American fruits and vegetables, the wild and foraged ingredients, game and fish. Locally sourced, seasonal, "clean" ingredients and nose-to-tail cooking are nothing new to Sean Sherman, the Oglala Lakota chef and founder of The Sioux Chef. In his breakout book, The Sioux Chef's Indigenous Kitchen, Sherman shares his approach to creating boldly seasoned foods that are vibrant, healthful, at once elegant and easy.
---
A photographic and narrative celebration of contemporary Native American life and cultures, alongside an in-depth examination of issues that Native people face, by celebrated photographer and storyteller Matika Wilbur of the Swinomish and Tulalip Tribes.
"This book is too important to miss. It is a vast, sprawling look at who we are as Indigenous people in these United States."—Tommy Orange (Cheyenne and Arapaho), author of There There
---
Ease Stress & Relax With Pow Wow Adults Coloring Book!
The Pow Wow Coloring Book for adults feature intricate designs of Native American patterns, and unique pieces of art which you won't find anywhere else. Adult coloring books are a great way for men and women to immerse themselves in an activity that they not only enjoy but also experience calming and relaxing emotions. It's a simple activity that helps us focus outside of ourselves providing you with an easy escape that's both productive and fun.
---
Gifts From Estay
Beaded floral earrings with mirrored centers.
Size 11 blue, red, and silver beads. Backed on white buckskin with kidney ear wires.
Indigenous made.
---
Modern Resiliency
H: 3in. W: 3in.
Sticker: Vinyl, Waterproof, Durable, Matte
ABOUT
Three Shoshone Women posing for a group picture. Each of them wearing a traditional cloth wing dress with cowrie shells. Each have their hair down with an under cover shirt to match their dresses. Each of them have different accessories – scarf, bone necklace, medallion. A traditional aspect with a modern add-in of a cell phone.
---
Custom pair of floral quill centered earrings
•lever posts
•hide backing
•made to order
On average I will need 3-4 weeks from purchase date depending on how many orders I currently have. Just message me if you want more info regarding your order
---
Ya'a'teeh! All skirts are handmade by me. Each skirt are assembled with care. All my skirts have elastic bands. Made with cotton fabric
PLEASE KEEP IN MIND THAT I MAKE ALL ITEMS MADE TO ORDER! There is a 7-10 day processing time.
FOR CUSTOM ORDERS:
Enter your waist and hip size and preferred length in the "personalization section".
---
PowWows.com earns a commission on some of the links above.