Killers of the Flower Moon, an Apple Original Film set to be released in October 2024 stars Native American actress and breakout star, Lily Gladstone. If her name sounds familiar that's because she has appeared in other great films such as Reservation Dogs, and Certain Women which both focus on the trauma in Native American communities.
Lily Gladstone: Far Out There | In the Making | American Masters | PBS
In this film, she plays Mollie, an Indigenous woman whose family and tribal community are at risk. Set in the time period just a few decades after the discovery of oil on the Osage Nation Reservation, we follow Mollie as she struggles with the reality of the influx of opportunists, driven by greed, who come calling once they realize all there is to be had as a result of the oil rush. Chief among them is Leonardo DiCaprio, who plays her husband.
Production on the film started in 2019 and then underwent a major rewrite during the 2020 pandemic; what emerged was a story with more focus on the Osage community and the flawed structures that allowed others to get away with so many brutal murders. In a poignant, behind-the-scenes moment, it is worth noting that the Indigenous community in Gray Horse, Oklahoma, home to so many of those killings, hosted the movie's director, Martin Scorsese for a dinner. This meeting of the minds left Gladstone convinced that the voices of her people would be heard, a fact she didn't take lightly.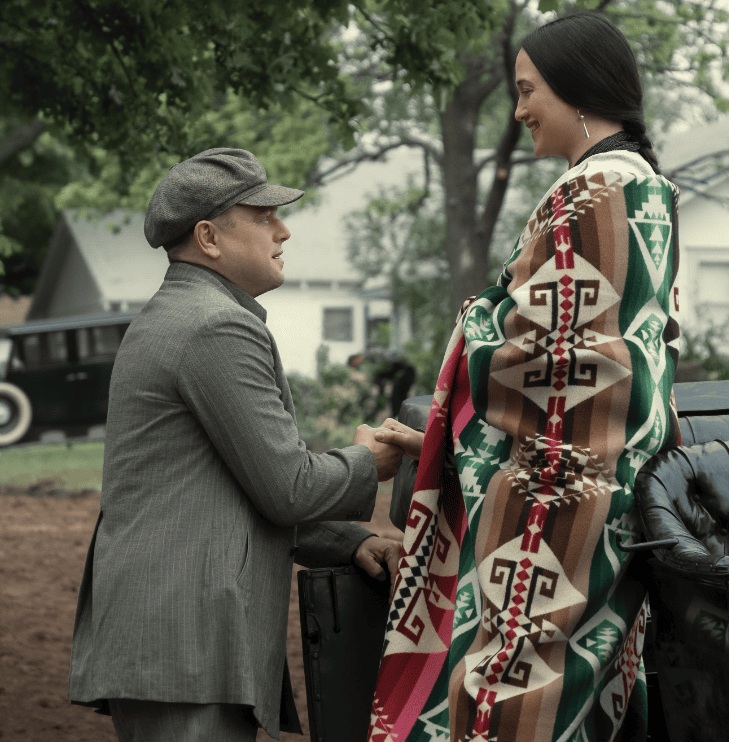 This film about Native American history is just as important to American history. It is also a pivotal moment for Native American actresses. Headlining along with Leonardo DiCaprio and Robert DeNiro is no small feat, but Lily Gladstone holds her own and is already sparking Oscar buzz for her amazing role.
If she were to win, Gladstone could very well be the first-ever Native American woman to win Best Actress. This is a historic milestone as Indigenous representation in Hollywood has basically been nonexistent throughout its history.
Killers of the Flower Moon — Official Trailer
Based on David Grann's 2017 non-fiction book "Killers of the Flower Moon: The Osage Murders and the Birth of the FBI" the film takes a sharper look at the community affected and less on the heroics of the white man.
Lily Gladstone is an American actress of Blackfeet and Nimíipuu heritage. Remember her name, you're sure to hear it a lot in the upcoming award season.