Posted By BrittanyLCerny February 24th, 2022 Last Updated on: March 29th, 2022
Native American jigsaw puzzles you won't be able to put down!
Despite what many people may think, puzzles have not gone out of style. In fact, "puzzling" is arguably as popular as ever, despite the seemingly endless supply of online entertainment.
Before tablets, gaming systems, and virtual reality took over, people of all walks of life would routinely sit around card tables with a coffee mug in hand, mindfully working on intricate jigsaw puzzles. And many people are still opting for this tactile pastime along with coloring books and board games, over Netflix and Hulu.
And it's no wonder—there's a surprising number of benefits to doing jigsaw puzzles. Some of these include improving spatial reasoning, boosting short-term memory, increasing productivity, calming the nerves, encouraging collaboration and improving critical thinking.
The great thing is, you can find a puzzle online with just about any style, picture, design, or theme you want. We're talking 3-D puzzles, glow-in-the-dark puzzles, puzzles with cats, unicorns, famous works of art, nature scenes, celebrities—the list goes on and on.
Native American jigsaw puzzles have also grown in popularity. Some are artistic in nature, while others boldly represent culture and heritage. Some are cute and tailored to a younger crowd, and others are simply fun and colorful.
Given the popularity of Native American jigsaw puzzles, we've selected 20 of our favorites that you can conveniently browse right from this post. If you see one you like, click the link to go directly to the site to purchase it.
Native American Jigsaw Puzzles for Kids and Teens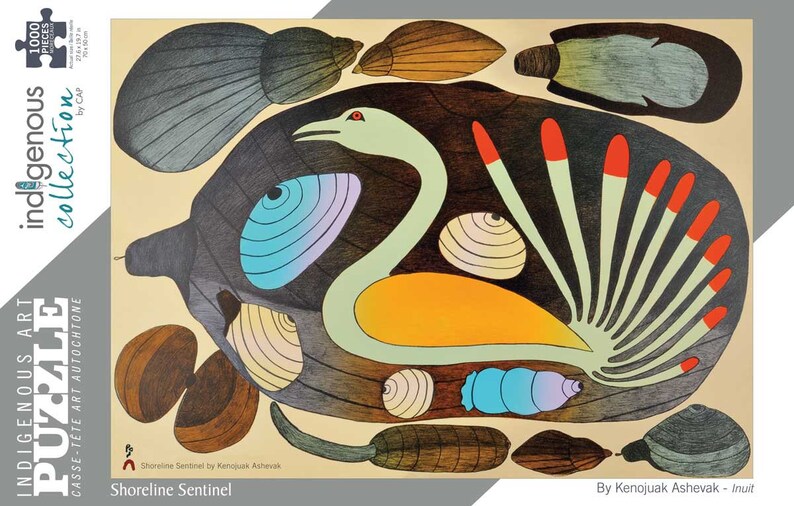 This is another art-inspired puzzle from the Indigenous Collection, which is great for families. Not only can they be used for wholesome family time, but they can also serve as an educational tool to learn about culture and heritage. This specific puzzle's artwork comes from the Inuit tribe by the artist Kenojuak Ashevak, who was one of Canada's most acclaimed graphic artists. It is titled "Shoreline Sentinel."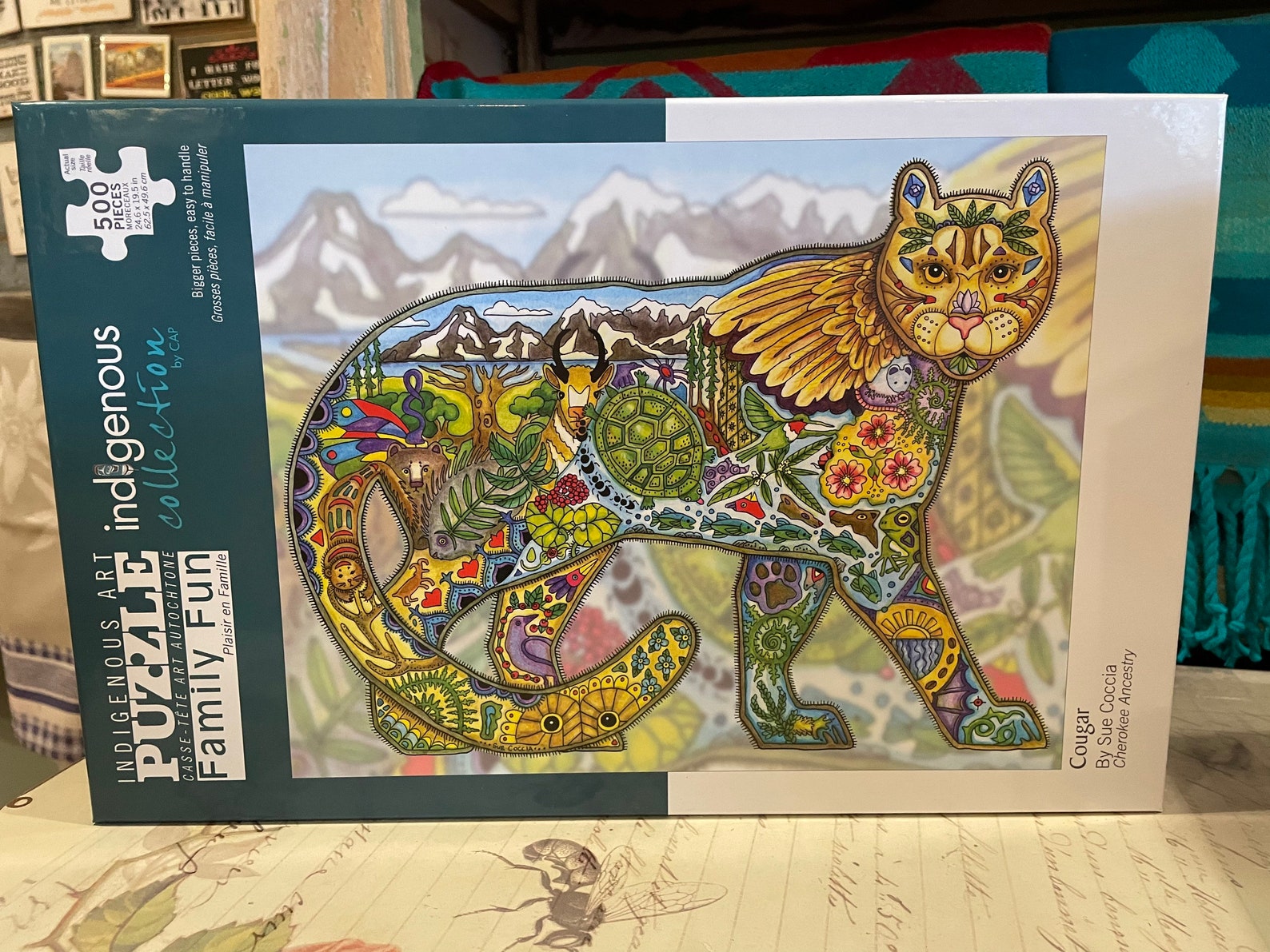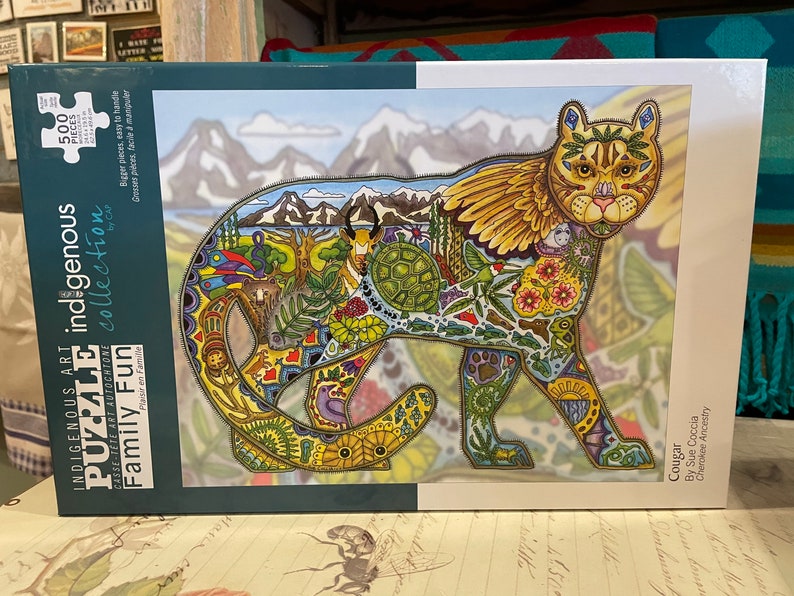 From the Indigenous Collection, is the "Cougar" puzzle by Cherokee artist Sue Coccia. This puzzle is visually engaging as hidden symbols and images can be found all throughout the picture. Children can take turns spotting images that might be of significance in their own lives. This colorful puzzle is relatively easy to piece together with only 500 pieces to work with.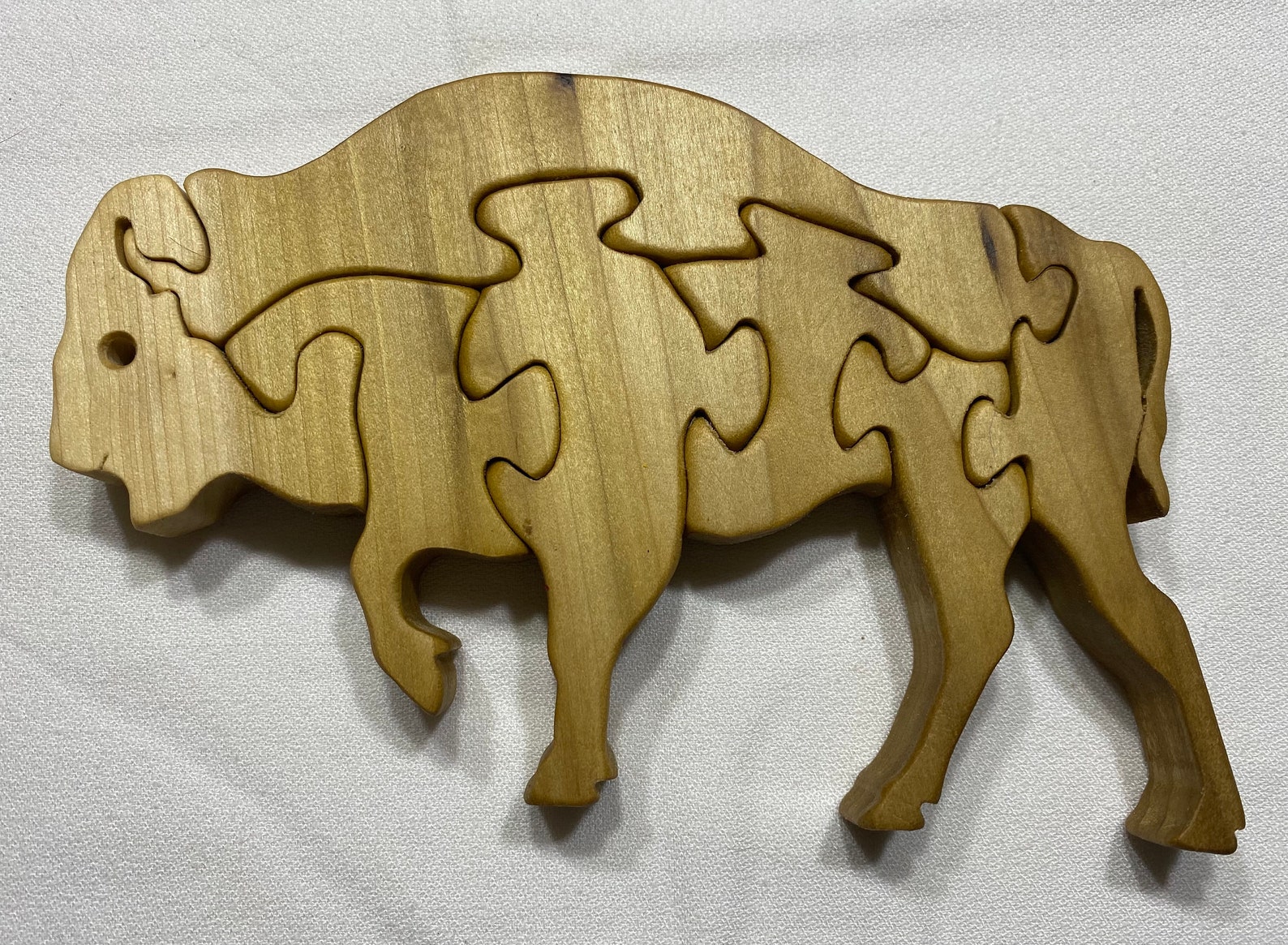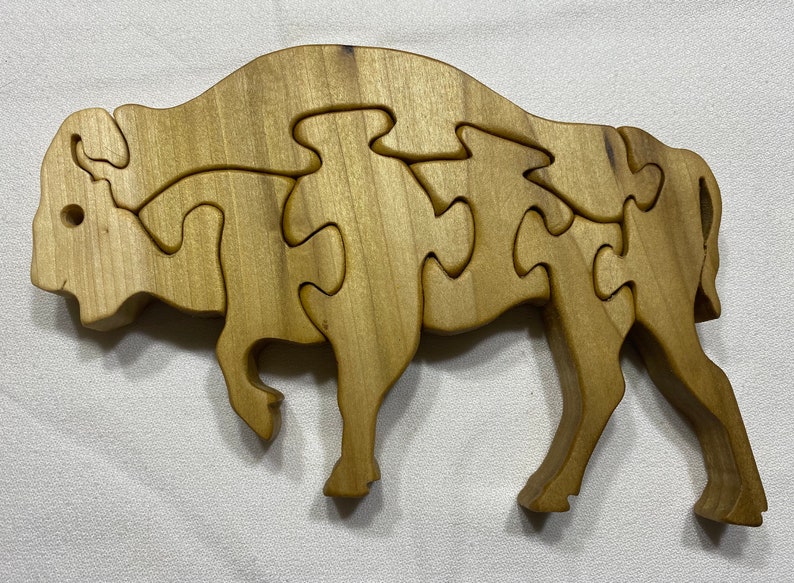 This puzzle is different than the rest. Large-pieced, wooden puzzles are generally given to small children (recommended for over the age of three) as a keepsake gift or to play with. The Etsy seller states "The 7-piece bison puzzle measures 7.5 inches long and 5 inches tall and is handmade from local wood. Each piece is unique varying with the wood available." Give this precious bison puzzle as a present and share your love of puzzling with others.
This animal-shaped puzzle is more than your ordinary puzzle. Each individual piece of the puzzle is in the shape of "an artifact." In the case of this vibrantly colored wolf, each piece depicts something related to nature, such as another animal or plant. While adults can definitely enjoy this type of puzzle, it's aimed more toward a younger crowd. The brand, Yeasica, offers several other similar puzzles with brilliant designs on Amazon.
Speaking of education, this is the perfect gift for a child who loves history. Its 1,000 pieces make up a map of what were the original tribes of the Indian Nation, hence its title. Whether this puzzle is done at home or in the classroom, it is a great learning experience for all who help out.
There is a lot going on in this puzzle, but it will surely keep your child fascinated and engaged as they assemble the 300 pieces. Within the puzzle are a variety of Native American symbols surrounding an animal totem. This is a great time to discuss your own family history and culture with your child as you help him or her piece this beautiful puzzle together.
The "Flags of Our Fathers" 1,000-piece puzzle is yet another learning opportunity for children. As they piece it together, they can get acquainted with the various tribal flags and what the symbols mean. It can be a great lead into how different cultures use symbols in their lives and what we can learn from them. This puzzle is fun, artsy, and colorful for children and teens.
Native American Jigsaw Puzzles For Anyone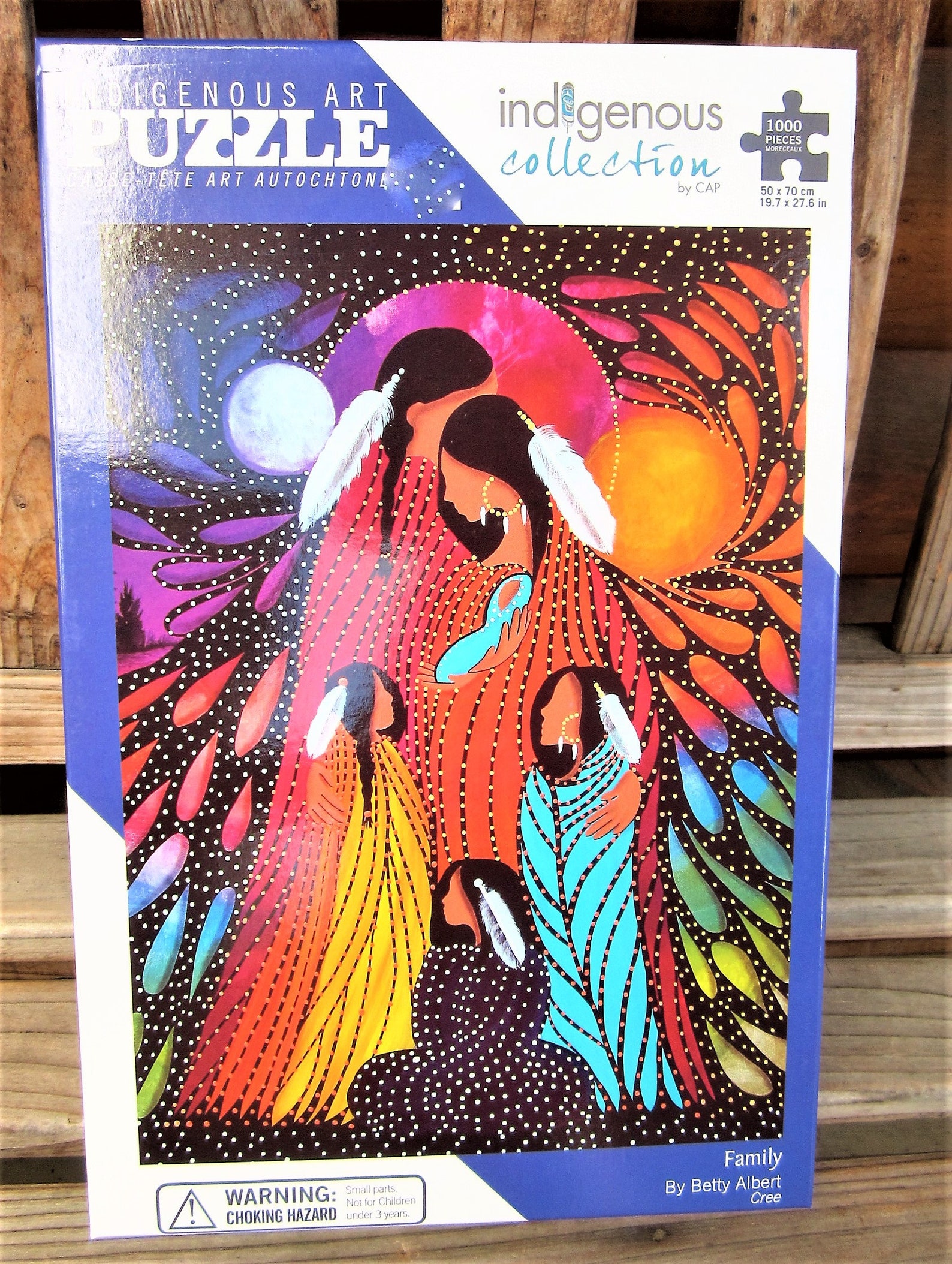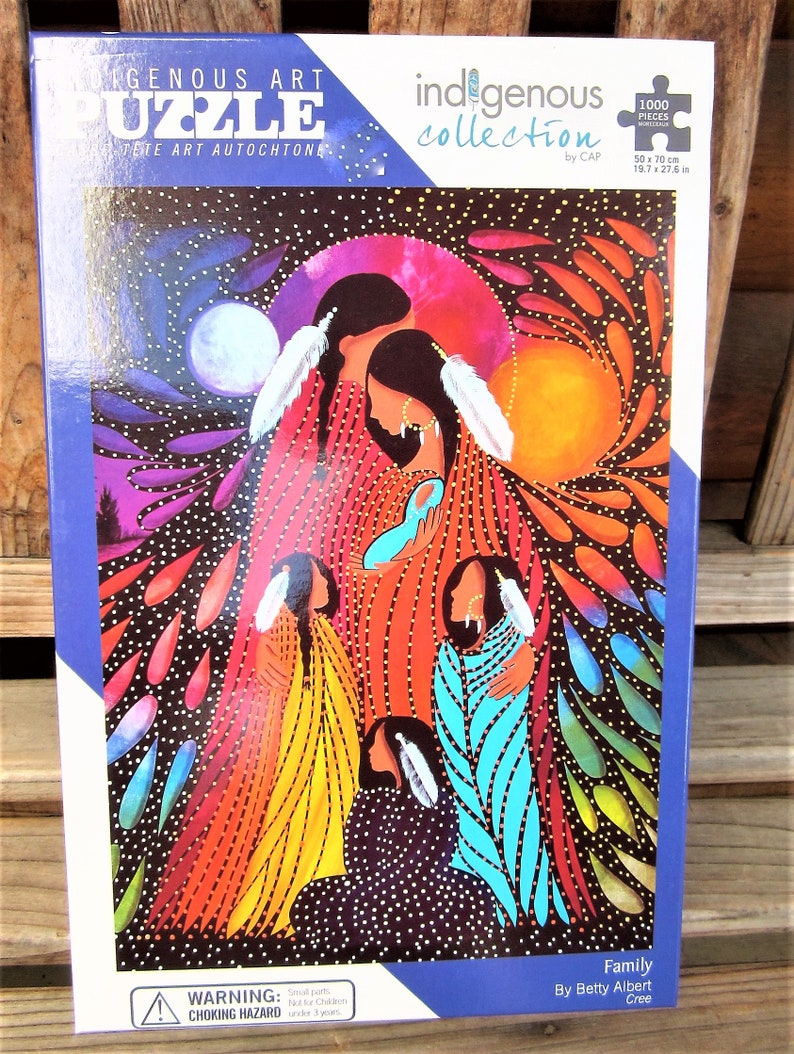 This gorgeous puzzle comes from the Etsy store, TheKanataShop, which has almost 2,000 Native American-related art pieces. This one specifically comes from the Indigenous Collection of Native American puzzles. The artwork on the puzzle comes from a Cree First Nation artist, Betty Albert, and is titled "Family." It is one among many in the Indigenous Collection group of puzzles. The good thing is that when you're finished, you can collect as many as you can from the series.
This Southwestern Kokopelli puzzle comes in the options of 300, 500, or 1000 pieces. For those who are not familiar, Kokopelli is a fertility deity, who is honored and celebrated in some Southwestern US Native American communities. He is usually depicted with a humpback and a flute. The rest of the puzzle's images and colors symbolize the Southwest. This Native American jigsaw puzzle is considered to be more on the easy side, so anyone can enjoy it. When you're finished putting it together, it can be framed as a picture to add a pop of color to a room.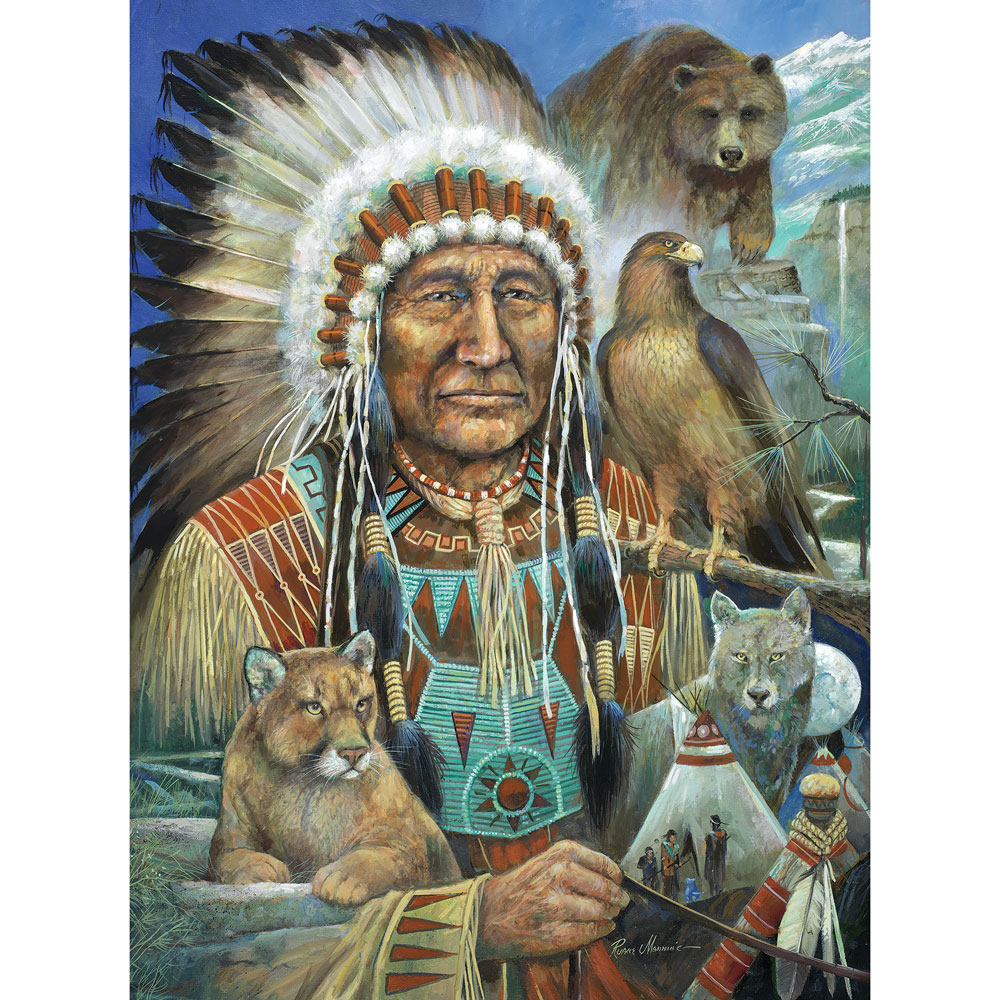 Chief Sitting Bear is realistically represented in this 1,000-piece puzzle. He was a great Kiowa warrior and medicine man in the 1800s who protected his family and homeland against colonizers and other tribes. More specifically, he is known as one of the bravest Kiowa warriors. Famous artist, Ruane Manning, created this piece, which is now a jigsaw puzzle for all to work on. The puzzle has a lot going on in regards to colors, designs, symbolism, and images. It is considered to be on an intermediate level as far as assembly goes. Learn about Native history as you work on this indigenous puzzle.
This puzzle is unique compared to most in that it takes on the shape of a wolf instead of being the traditional square or rectangle puzzle. While figuring out where each of its 750 pieces goes, you will notice the powerful, wondrous, and symbolic images that relate to Native America. Pay close attention to the detail, or you'll be bound to miss some of the interesting cultural figures. This Native American puzzle is proud to be eco-friendly and made from recycled materials and soy-based inks. After you're finished with it, seal it with Mod Podge and put it up on the wall for all to see.
The Founding Fathers of Native American history are portrayed in this puzzle hovering above the four United States presidents depicted in Mount Rushmore. The four founding fathers include Chief Joseph, Sitting Bull, Geronimo, and Red Cloud, all of whom played an important and influential role in their tribes' culture and history—so much so, in fact, that some circles refer to them as "The Original Founding Fathers." This puzzle is a great one for kids to enjoy as they learn about the history of the United States and gain a better understanding of who these four men were and why we know their names today. Buy this Native American jigsaw puzzle for the classroom or the home. Either way, it can double as an educational tool and a calming pastime.
Put together the 1,000 pieces of this work of art by Kirk Randle, who is known for his use of color and natural scenery. This puzzle depicts a beautiful and almost whimsical snow-covered landscape with Native people around a fire. Not only is this portrait lovely to look at during the day, but it glows in the dark at night, which is a unique attribute that most puzzles don't have. This is the perfect puzzle to piece together around a warm fire with family and friends and then display it during the winter months, perhaps over the fireplace. It can give a room a cozy feel of togetherness.
This "Golden Spirit" jigsaw puzzle is a high-resolution scan of artwork done by Lorna Matsuda out of Canada. On her Redbubble shop she states, "As a realist artist, I strive to capture the true spirit and character of each subject I paint." And she does exactly that with her painting-turned-puzzle. If you've never heard of Redbubble, it is a wonderful site to check out if you want something that is unique, personalized, and made by individual artists who profit from their sales. It is a great way to support artists in the United States, especially indigenous ones. Check out Lorna's
shop
and view some of her other amazing work.
This 1,000-piece Native American jigsaw puzzle is absolutely stunning. Once finished, it can go straight up on the wall as a framed work of art, because that is exactly what it is. The vibrant colors and the movement of the feathers in the Native woman's headdress make this puzzle a bit more challenging than others. If you're done with the easy, beginner-level puzzles, this Native American puzzle is the next step for you. The woman featured here represents the strength and power that Native women possess and the beauty that is woven into Native culture.
Speaking of vibrant beauty, this 1,000-piece puzzle embodies that and more. The art, originally painted by David Behrens, depicts a Native American "peacemaker," hence the title of the art and the puzzle. According to the artist's
website
, "His style of painting blends realism, concept, and imagination all built around provocative portions of Native American history and culture." Check out his website for more creative inspiration and to browse his online gift shop for more Native-inspired puzzles.
This high-quality Najiaxiaowu 1,000-piece puzzle called "Indian Girl and Wolf" is breathtaking. The work embodies both softness and also a great strength. Once finished, this puzzle is definitely one that can be made into framed art. While there are not many colors to work with, which can make the puzzle assembly a bit difficult, this puzzle comes with number hints on the back of each piece so you'll know you're on the right track. (It's only cheating unless you say you did it without help!)
This is another piece of art turned into a puzzle by an individual seller on Redbubble. This puzzle represents MMIW, or the Missing and Murdered Indigenous Women. Not only is this puzzle available for purchase, but you can also buy other items from this seller in the same design. Thankfully, the seller intends on donating her artist earnings from this design to help the cause. Another cool aspect of this puzzle is that there are 30, 110, 252, 500, and 1,000-piece puzzle sizes to choose from depending on your skill and level. By working on a puzzle that has deep meaning, essential and honest conversations can be held about the issues at hand. The more knowledgeable individuals are on these relevant issues, the more can be done about them.
What can you do with your Native American puzzle after you're finished?
There are a variety of things you can do with your puzzle once you are finished. One of the more popular options is to paint a few thin layers of clear and glossy Mod Podge over the entire puzzle and let it dry. This will seal the puzzle pieces together and allow you to move and hang the puzzle as a picture on your wall.
Choose one of these gorgeous Native American puzzles to buy. Then, grab a friend, a comfy chair at the table with some tea, and get to work!
Home » Blog »
Explore Native Culture
TAGGED:
native american craft
Native artwork
ShopNative